In between working on the scenery around the Masten Loop bridge, I have also been working on the first model structure for the Wheelerville scene.
Some of my sources mentioned a creamery of some type at Wheelerville, but I have never seen photos of this structure. Accordingly, I decided to build the Laser-Art creamery kit #680.
The size of the creamery in the kit is just right to fit the space I had in mind, but I intend to scratchbuild a small boiler-house that will attached to the wall where a separate ice-house kit would go. My thinking is that this will provide an extra car-spot for coal while partially disguising the structure as "that Branchline Trains creamery"
I had never attempted a laser-cut kit before, and assembly was a pleasant surprise. The kit goes together quite well with only a couple of minor caveats.
The first is that the kit, being wood, needs to be braced on the inside like crazy. I used some 1/4″ poplar strips from Lowes.
The second is that the window glazing is actually in 2 different sizes, one for the upper windows, one for the lower. The instructions do not mention this.
Last, I don't trust the adhesive backing on some of the parts to hold forever, so I reinforced some joints, especially the tiny joins in the loading dock supports, with super glue.
Progress thus far: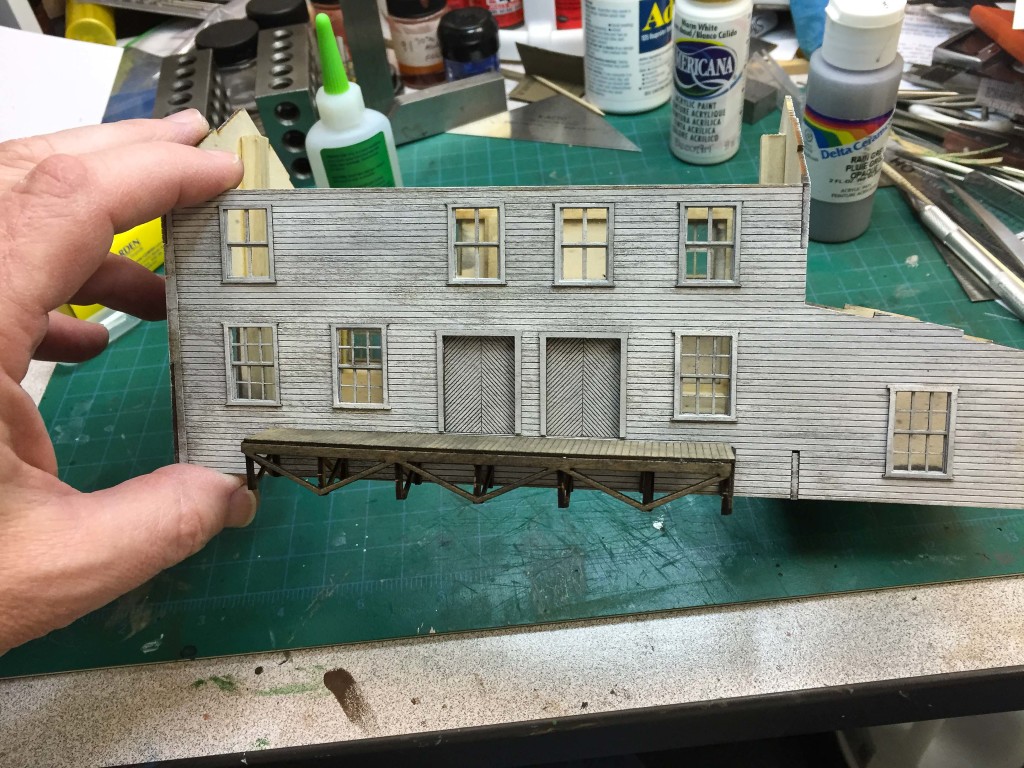 The walls, windows, frames, and doors were stained with a random mix of oil-based ivory black and burnt umber thinned with turpenoid. This was then sealed with rattle-can Dullcoat. The Dullcoat also quickly dries the turpenoid and oil paint, preventing any later bleed-through. I then heavily dry-brushed warm-white Americana brand acrylic craft paint on the walls and other exterior parts prior to assembly. I made sure to dry-brush horizontally in the direction of the boards on the main walls.
The loading docks were stained with the same turpenoid mix. I'll eventually lightly dry-brush these parts with some greys and browns to simulate weathered untreated wood.
To be continued…