Another piece of unusual equipment rostered by the SNY is maintenance-of-way ditcher #6. This steam-powered crane would have been used for any number of purposes on a pre-WWII railroad. The main purpose, of course, would be in keeping the drainage ditches along the track open and free of debris. The key to solid roadbed and track is drainage, drainage, and more drainage, and this would have been a never-ending unglamorous task for the section crews of the SNY. The narrow Pleasant Stream and Schrader Creek valleys would have been prone to flooding in the years after the mountainsides had been clearcut, and the mountains themselves are drained by innumerable "runs" and small streams, both named and unnamed.
In addition, a shovel-crane would have been used for a vast number of other tasks along the right-of-way in an era before the widespread use of tracked bulldozers and other heavy construction equipment, particularly given the absence of roads at that time. Even primitive roads were nearly non-existent into the region served by the SNY, at least until the Civilian Conservation Corps built them during the Depression, often using old pre-existing logging railroad rights-of-way.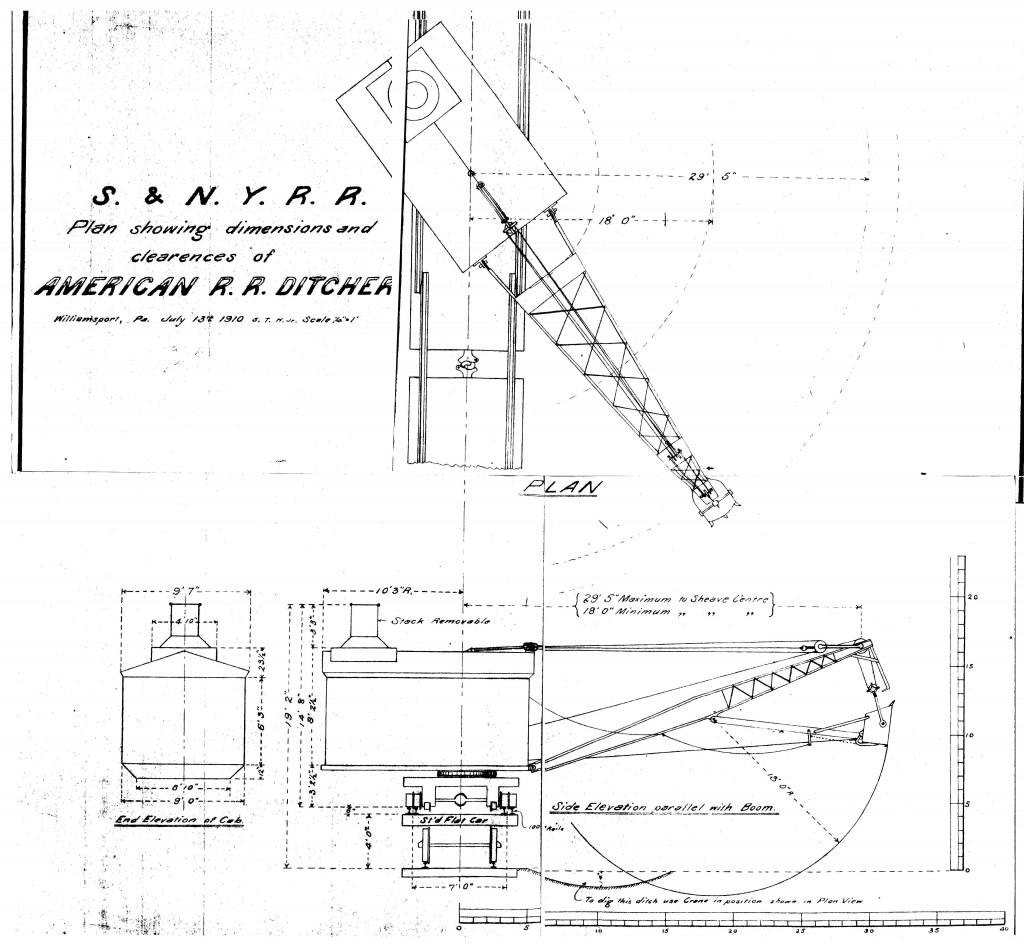 Above is a plan diagram of the American Rail Road ditcher, presumably purchased new by the SNY in 1910.
Note the unusual flat car dedicated to transporting the ditcher, which moves back and forth on the car on rails mounted to the deck.
Here we see ditcher #6 at work along the right-of-way, lifting and moving ties or cribbing. Hard to tell, but there may be a washed-out bridge or culvert in the background.
Finally, a rare color shot, giving a good 3/4 end view of the ditcher and flatcar. Location is Towanda, with the highway bridge across the north branch of the Susquehanna River in the background. The flatcar seems to be painted a light greyish color, while the ditcher itself is a shade of boxcar or caboose red. This will make an interesting model-building project someday, perhaps by starting with the IHC Barnhart log-loader as a basis. The flatcar would probably have to be scratchbuilt. I have no information as to the disposition of #6 after the 1942 abandonment.