This ancient car, #210, was listed on the ORER's from 1926, 1938, and 1940 as S&NY's "Bunk Car, Maintenance of Way – 210". Per Kaseman's book, this car along with a presumed similar car #209, was acquired from the John Strong Lumber Company, and used primarily on work trains. ( I have no further information regarding the John Strong Lumber Co.) The date of acquisition is not specified in the book, but neither car is on the roster on an ORER from early 1905. Interestingly, there is no car numbered 209 on the roster on any of the ORER's I have.
Reader and pre-1900's railroad fan John Webster stated to me that the roof style of this car suggests a build date around 1870. If this car does indeed date to that era, it would have already been an antique when purchased by the S&NY.
In the photo above, the car seems to have a different paint scheme than in other photos, and seems to be in a worse state of decrepitude. (Note the partially caved-in clerestory mid-car.) Could this actually be #209? Perhaps 209 was in such bad shape the S&NY never listed it on the ORER as a usable piece of equipment. We will probably never know.
Here is 210 with major end-sill damage and a pulled drawbar, possibly due to a coupling accident. I would imagine the 70 or 80 year old wooden underframe was probably rather fragile by the time of S&NY abandonment in 1942.
Still, #210 soldiered on until the very end. In the above photo the car is in the middle of a salvage train, possibly the the very last train on the S&NY to run prior to abandonment in 1942. In the end, per Kaseman, 210 was sold and ended up as a chicken coop near Newberry Junction, PA.
UPDATE 8/25/15:
"Train friend" and regular model SNY crew member Freed Lotte dug through his railroad library found this interesting bit of data excerpted from John H. White's encyclopedic work "The American Railroad Passenger Car, Vol.1":
"A 'projecting roof' was first used on horse drawn cars built by Richard Imlay of Philadelphia about 1835. They looked more like elongated stage coaches with a foundry ridge vent than rail cars. Imlay's shop closed in 1840. The clerestory plan went into dormancy for 20 years until it was revived by Webster Wagner to improve ventilation in his sleeping cars. Wagner's first clerestory roof was built in 1859. He called them 'Monitor' roof cars. They were operated on the New York Central and associated lines. The Hudson River RR extended the idea to coaches with the first 4 built in Aug 1860 by Eaton & Gilbert. Other RR mentioned are Michigan Central, Burlington, Cleveland, Columbus & Cincinnati. A lot of cars with arched roofs were converted to the style. The cramped, tunnel like appearance of the arched car roof gave way to the open dignity of a more spacious edifice. … at last a properly attired Victorian gentleman could stand erect, top hat and all.
PENNSYLVANIA RAILROAD, CLERESTORY ROOF CAR, 1862
The Pennsylvania Railroad began a program of standard passenger car design in 1862 with its class PA. This style of car was to be used system-wide and built to an exact common standard, whether it was constructed in the company shops or in a contract shop. The exact number produced has not been determined, but photographic evidence indicates that there were a great many PAs and that they were in service on nearly every portion of the system.
The design incorporated the most advanced styling elements of the period, including the clerestory roof. The short-lived Monitor plan was used, however. The body had a wide letter board, small, square windows, and batten-board sides. The platform canopies or hoods were made as separate structures and were not integrated with the roof—a peculiarity of construction common on the Pennsylvania until the end of wooden car construction. (See Figures 1.90 and 1.91.)"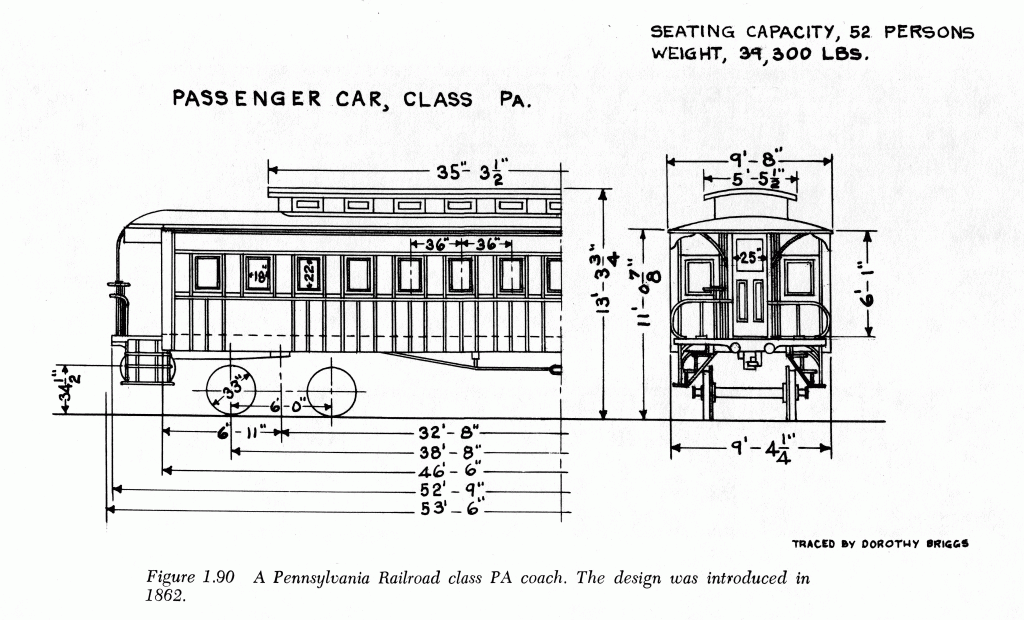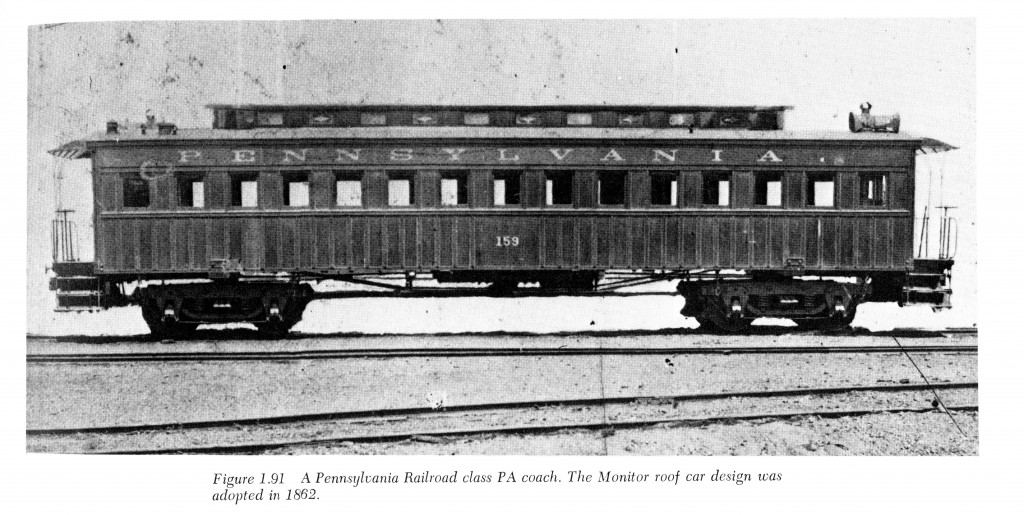 Based on this information, I believe Bunk Car #210 almost certainly was originally constructed as a PRR class PA coach sometime in the mid to late 1860's. This car could have been 80 years old at the time of S&NY abandonment in 1942. Too bad it could not have been preserved, but there was a war on, and new lumber for chicken coops was probably very hard to come by…