Last week's WW, courtesy of the Denver Public Library was photographed on 13 September 1939 by Robert Richardson, and is captioned, "Northbound Susquehanna & New York Railroad locomotive 4-6-0 #119 and a mixed train are north of Williamsport in Lycoming County, Pennsylvania. Shows a paved highway near the tracks, and billboards that advertise cigarettes, chewing gum and auto races."
Mr. Richardson was co-founder and former executive director of the Colorado Railroad Museum, and his extensive portfolio of railroad photographs is held by the Denver Public Library. Wikipedia entry here: Robert Richardson.
As a footnote, reader and noted early racing enthusiast John Webster provided additional information regarding the Altoona Speedway. The 2.5 mile Altoona Speedway was constructed of 2 x 4 boards forming the racing surface, and was the last board raceway to host a race in the U.S. Ralph Hepburn set the lap record there at 136 mph. The board track went bankrupt in 1930, and burned in 1931. However, a 1 1/8 mile dirt track remained, and AAA races continued to be held there into the late 1930's. Later, drag races were held there, and then the site became the second location of the Tyrone, PA airport (Peterson Memorial Airfield) before being converted to an industrial park.
John provided this photo of the board track at Altoona: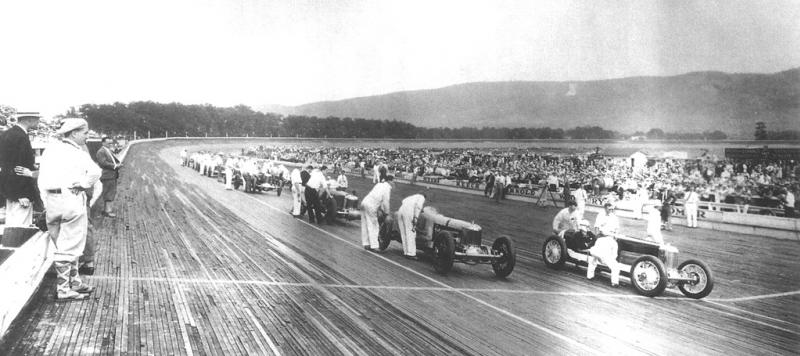 The car in front is a Miller front-drive car once owned by Ettore Bugatti, and is preserved at the Indianapolis Motor Speedway Museum.