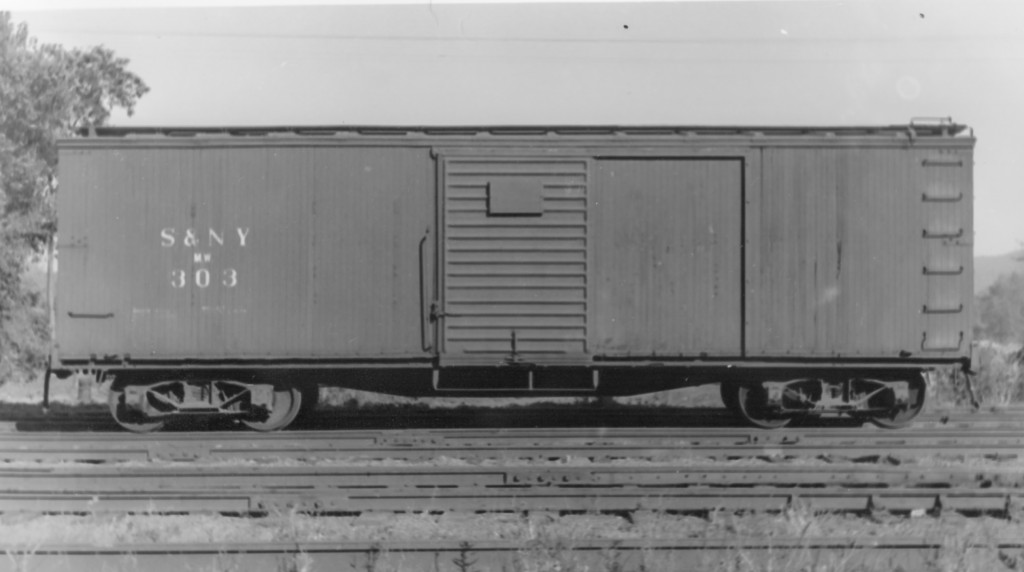 A one-of-a-kind piece of SNY rolling stock is this unique boxcar, listed on the October, 1940 ORER as a "wrecking car, maintenance of way". In this late-1930's or early 1940's view, the car is clearly marked "MW", or maintenance of way, and is long out of revenue service. 35 years earlier, however, the car was numbered with four other similar cars (302-305) as being in revenue service, per a 1905 ORER.
I inquired about the origin of this car on the Steam Era Freight Car group on Yahoo, and received a number of very detailed responses about the possible provenance of this car, prior to SNY ownership. The most completely researched response was from Mr. Eric Lombard, who believes this car is most likely a former Philadelphia and Reading class XMk boxcar. The XMk class numbered some 4000 cars, and had an inside length of 36'0″, inside width of 8'6″, and inside height of 8'0″. More information, including drawings and builders' photos, can be found in "Philadelphia & Reading Freight Cars 1900-1914, Freight Cars Journal Monograph #36, by Eric Neubauer. (Unfortunately out of print.) The car rides on Theilsen archbar trucks, and was built either by Standard Steel Car or ACF sometime between July 1905 and January 1908. Original door on the SNY car has been replaced by a Youngstown steel door, and additional steps and grabirons placed to allow easier access to the interior of the car for MoW service.
F&C sells a similar, but later, XMp class car as a resin kit: http://fandckits.com/HOFreight/8194.html
I may have to obtain one of these kits as a stand-in for SNY #303. Someday…
UPDATE 5/7/16: Ray Breyer has composed a series of .PDF files summarizing the up-coming release of 36-foot double-sheathed boxcars from Accurail: Accurail Prototype Data Sheets
In the 1700 Series data sheet is a notation that S&NY #303 was former Reading XMk 2784, built 11/21/07 and sold to the S&NY 3/9/36 for $200. This information can also be found in the .PDF related to the XMk series compiled by John W. Hall at The Reading Modeler, p. 113.